This article may need cleanup to meet quality standards.
Please help
improve this
if you can. The
Discussion page
may contain suggestions.
Reason: "
Give each weapon its own page with an info box that displays all appropriate stats.
"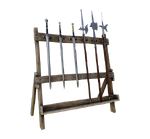 Weapons are a core element of Mordhau, due to its emphasis on skill-based combat. Players can wield a variety of weapons, each with their own strengths and weaknesses. Up to 3 weapons can be carried at any given time, or 6 in Horde mode, and the player is allowed to have multiple copies of a weapon if they wish. Many weapons also have an alternative mode, which could range anywhere from changing your grip on the weapon for different properties to throwing it as a ranged attack.
The weapons each do different amounts of damage depending on which part of the opponent's body is hit, and how well-armored that body part is. Damage is shown for each region of the body, with the first number being for an unarmored body part, the second number for lightly armored ones, third for medium armor, and fourth for heavy armor.
One Handed
Two Handed
Ranged
Shields
Utility